2018
Scordatura Women's Music Collective - 4th Feb at 4pm
Cellist, Rachel Watson, first appeared in our barn as a playing card in Alice in Wonderland, and has now founded the Scordatura Women's Music Collective. They performed music from the baroque period to the current day written by women.
Sonata No. 1 in D minor (Aria and Presto) arr. 2 cellos       Elisabeth Jacquet de la Guerre
Happy Tune for 2 celli – Chen Yi
Yellow Jersey for 2 clarinets –  Libby Larsen
Midnight Interludes for clarinet and cello – Charlotte Bray
St Agnes for viola and cello  – Judith Weir
Rhapsody for solo viola- Rhiannon Randle
Argentinian Pieces for violin and cello  – Adriana Isabel Figueroa Mañas
Performed by 
Scordatura – 
Women's Music Collective
Rachel Watson (cello) (last seen at Lea Barn in the Pied Piper of Hamelin – 1998)
Corinna Boyle (cello)
Poppy Beddoe and Charlie Dale-Harris (clarinets)
Henrietta Hill (viola) (previously heard last May with the Nova Luce Ensemble as part of MMS 70th birthday)
Sarah Hill (violin)
We were very pleased that composer, Charlotte Bray, attended the concert.
£686 was raised in aid of the Dahlia Project, which provides counselling and services for women who have undergone FGM:
Genevieve Usher (soprano) and instrumentalist - 28th January at 4pm
Norman MacSween (harpsichord), Chiawen Kiew (Flute), Jane MacSween (violin), Rowena Rosenbaum (violin),  Genevieve Usher  (soprano) and Hugh Rosenbaum (bassoon) played
Boddecker – Sonata sopra La Monica for bassoon and harpsichord
JS Bach – Sonata in E flat for flute and harpsichord
Clerambault – Leandre et Hero for soprano, flute and strings
£469 was raised for Thames Hospice
The Behn String Quartet- Saturday 13th January at 4pm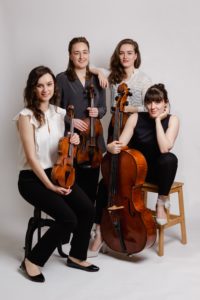 The prize-winning Behn Quartet, who recently appeared at Norden Farm as part of the Maidenhead Music Society's concert series held a concert here to help raise money to fund travel for their concert tour of New Zealand in April.  They played a programme based on folk tunes that they will also be playing at their Wigmore Hall debut later in the year and we collected £560
Shostakovich, Two Pieces for String Quartet
Dvorak, String Quartet No. 12 in F major, 'American'
Jack Body, Three Transcriptions for String Quartet
2017
Steve Bingham (violin) 26th November at 4pm
Virtuoso violinist, Steve Bingham, was joined by a small group of excellent singers to perform an unusual and fascinating arrangement of the great Bach D minor Chaconne.  In addition Steve played some solo violin works:
Debussy – Syrinx arranged for violin
Piazzolla – Tango Etude no 3
Bach – Chaconne from Partita in D minor with vocal Choral arranged by Phil Toms
Bach – Partita in D minor
After the concert a collection of £400 was made for the Adult Critical Care Unit at the Royal London Hospital.
Lea Barn Divertimenti Winds - Sunday 19th November at 4pm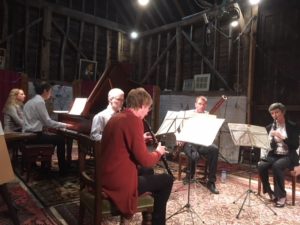 The Lea Barn Divertimenti wind players and Daryl Shippey (piano) played:
Mozart – Quintet for wind and piano
Hummel – Trio for piano, flute and bassoon
Malcolm Arnold – Trio for flute, clarinet and oboe
After the concert a donation of £265 was made to the Marlow Refugee Action Group . They are currently collecting to provide waterproof boots for the refugees living rough in Northern France and Belgium.
Diego Carneiro (cello) - Sunday 29 October at 4pm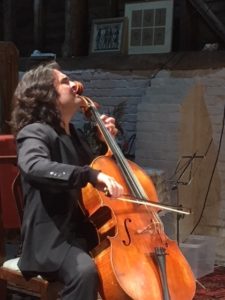 Many of us remembered Diego from his memorable concert raising money for his project bringing music-making to the children of the Amazon Rainforest.  He has now diversified and is raising money to support the National Youth Orchestra of Ecuador. At the concert today we collected £384 for the project.
Bach – Cello Suite no 1 in G
Carneiro – Fantasia Yumbo
Bach – Cello Suite no 3 in C
Quintessential Winds - Sunday 24 September at 4pm
Overture to Iolanthe by Sullivan, La Calinda by Delius, Sinfonia by Donizetti and Petite Symphonie for Wind by Gounod
After the concert there was a collection in aid of The Flying Seagull Project http://www.theflyingseagullproject.com/what-we-do/. which raised £388. This charity  believes that it is everyone, man, woman or child's right to put aside the cares of life and smile for a while. They work with widely varying groups in several countries to help bring smiles and happiness to people, whether as Clown Doctors for children undergoing difficult medical treatments or through arts, music and crafts workshops.
Viola masterclass with Lawrence Power - Friday 15th September at 10am
Part of the West Wycombe Chamber Music Festival http://www.westwycombechambermusic.org.uk/.  Internationally-renowned viola player, Lawrence Power, coached talented young viola players, Connie Pharaoh, Hannah.Gardiner and Henrietta Hill.  £100 was collected towards festival expenses.
Lea Barn Divertimenti - Walter Octet - Sunday 23 July at 4pm
Schubert – String Trio movement in B flat
August Walter  – Octet for violin, viola, cello, double bass, oboe, clarinet, bassoon and horn
Robert Behrman – violin, Judy Hunter – viola, Deborah Behrman – cello, Helen Hollis – double bass, Jean Ashford – oboe, Richard Longman – clarinet, Jo Rushton – bassoon, Adrian Rushton – horn
The concert raised £475 for Freedom from Torture https://www.freedomfromtorture.org/
Lea Barn Divertimenti chamber music with piano - Sunday 28 May at 4pm
An arrangement by Hummel of the Mozart piano concerto in D minor K466 for piano, flute, violin and cello and the first performance (to the best of our knowledge) of a piano trio by Charlton Palmer.
A pianist friend of ours in Canterbury, Robert Scott, was given the manuscript of the trio when the music shop Forwoods closed.  Clement Charlton Palmer (1871 – 1944) was the organist at Canterbury cathedral and this trio was written at the beginning of the last century..
Anthony Hardwicke – piano
Vanessa Smart – flute
Michael Friess and Robert Behrman – violins
Deborah Behrman – cello
After the concert a collection in aid of Great Ormond Street Hospital raised £575
WWCMF Friends 2017 Festival launch - 26/5/17
An evening with Lawrence Power (viola) and Madeleine Mattar (piano)
The recital of
De Falla – Seven Popular Spanish Songs (arr. Viola/Piano)
Esa Pekka Salonen – Pentatonic Etude
Shostakovich – Seven Preludes (arr. Viola/Piano)
was followed by a canape reception
OCMC Strings Day - 21st May 2017
A morning of chamber music groups coached by Roger Coull and Nick Roberts of the Coull quartet, then in the afternoon a string orchestra session directed by Roger Coull playing Finzi – Romance and Elgar – Introduction and Allegro
Maidenhead Music Society 70th anniversary concert - 14th May
Ensemble Nova Luce gave a concert for members of the Maidenhead Music Society in celebration of its 70th anniversary.
Chopin – 2nd piano concerto in F arranged for piano and string quartet
Rubbra – Fantasia on a theme of Machaut orig for recorder, strings and harpsichord
Haydn – Symphony no 94 in G major 'Surprise' arranged by JP Salomon for piano, flute and string quartet
A collection after the concert raised £109 for Maidenhead Music Society
Concert in aid of Help Refugees - 2/4/17
Naomi Hodson and Edward Brenton (violins) and Yeumeng Lee (piano) gave a concert of music by composers who have been displaced by war eg Chopin, Bartok, and also some contemporary Middle Eastern composers.
Two duos for two violins – Bartok
Lullaby (for Dead Syrian Children) – Shalan Alhamwy  (Naomi and Yuemeng)
Solo Sonata – Bartok (first movement) (Edward)
Sospiro:A Prayer for Damascus – Suad Bushnaq (Yuemeng)
Preludes 1-12 – Chopin (Yuemeng)


Suad and Shalan are instrumentalists/composers who formerly studied at the Damascus Conservatoire and are now living in Canada and Belgium. They are both very proud of their Syrian roots and have been wonderfully supportive of Naomi and her friends performing their music for this cause.

The concert raised £450 in aid of Help Refugees http://www.helprefugees.org.uk/
Lea Barn Divertimenti Piano Quartet - Sunday March 19th at 4pm
LBD Piano Quartet – Daryl Shippey (piano), Roger Jay (violin), Robert Behrman (viola), Deborah Behrman (cello) played Beethoven 'Spring' Sonata for piano and violin and Faure Piano Quartet no 1 in C minor.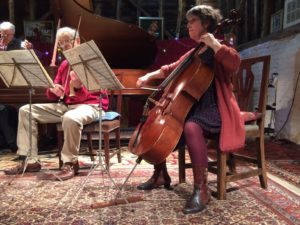 The concert raised £456 for Music Therapy at the Royal Hospital for Neuro-disability
The Heath String Quartet on Wednesday 11 Jan 2017 at 7.30pm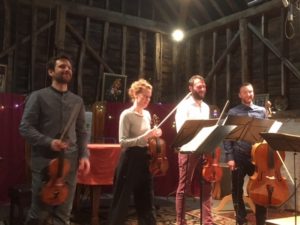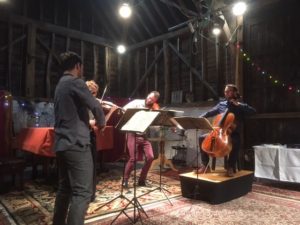 The Heath Quartet – Oliver Heath, Sara Wolstenholme, Gary Pomeroy and Christopher Murray played
Beethoven Quartet op 18 no 3
Bartok Quartet no 1
Dvorak Quartet op 106
Oxfam and MacMillan Cancer each received £220
2016
Viola and piano music with Ben Voce (viola) and Nurry Lee (piano) - Sunday 11th December at 4pm
Chromatic Fantasy BWV 903 – Bach Arr. Kodaly
Lachrymae Op. 43 – Britten
F minor Sonata Op. 120 No. 1 – Brahms
After the concert there was a collection raising £250 for 
MusicFirst
 (this included £30 collected at the Cookham Wildlife Supporters Bird Box making day on 26 November)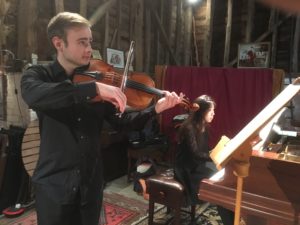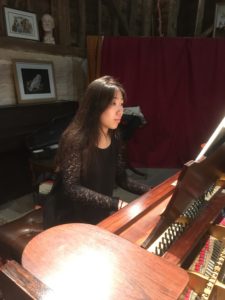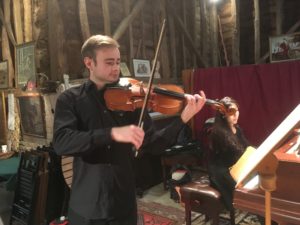 Wind and String Music from members of Lea Barn Divertimenti - 20th November at 4pm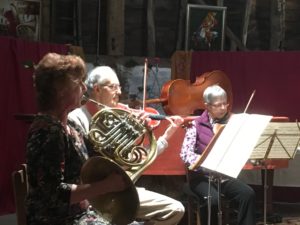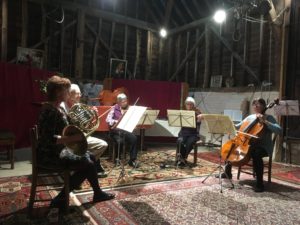 Mozart – Quintet for Horn and Strings
Lachner – Nonet for violin, viola, cello, bass, flute, oboe, clarinet, bassoon and horn
Lea Barn Divertimenti:
Mozart – Pamela Wise (horn), Robert Behrman (violin), Judy Hunter, Jane MacSween (violas), Diane Mace (cello)
Lachner – Robert Behrman (violin), Judy Hunter (viola), Deborah Behrman (cello), Claire Murphy (double bass), Lucy LeFanu (flute), Jean Ashford (oboe), Richard Longman (Clarinet), Adrian Rushton (horn), Jo Rushton (bassoon)
After the concert there was a collection raising £408 in aid of the Parkinson's Disease Association.
Eastern European Music with Arwen Newband (violin) and Anna LeHair (piano) - October 30th
Dvorak Sonatine
Wieniawski Legende
Brahms Hungarian Dances nos 6 and 1
Stravinsky's Suite Italienne
The concert raised £356 in aid of the Rennie Grove Hospice at Home.
The Malvern Horns - September 25th
Dauprat Minuet from Grand Sextet
Humperdinck, arr Hansel und Gretel: Prelude
Interlude – alphorn
trad Bavarian Ländler
Jones (apologies to Mozart) Rond-o-Mania
Interlude – natural horn
Rossini Le Rendez-vous de Chasse
Dukas Vilanelle
arr. Teuber Scarborough Fair Revisited
Handel, arr Water Music: Allegro
The concert raised £325 in aid of the Syrian Refugee crisis
Lawrence Power Masterclass - September 16th
Georgia Russell, Maddy Pickering and Ben Voce were coached on sonatas by York Bowen, Rebecca Clarke and Brahms.  £80 was raised for West Wycombe Chamber Music Festival.
The Arethusa Ensemble - July 11th
                  Mozart – Larghetto from Divertimento no 4
Poulenc – Trio for oboe, bassoon and piano
Ibert – Aria for flute, clarinet and piano
Danzi – Quintet for piano, flute, oboe, clarinet and bassoon
£269 was collected for Samara's Aid Appeal
Lea Barn Divertimenti - May 15th
Anthony Hardwicke (piano), Lyn Parkyns (soprano), Andrew Parkyns (harpsichord), Deborah Behrman (cello), Robert Behrman (violin)
Purcell – Fairest Isle, The Blessed Virgin's Expostulation,
Monteverdi – Ecco di raggi il sol
Beethoven – Piano Sonata op 111
£219 was collected for Great Ormond Street Hospital
Julia Wagner (cello) and Ryan Drucker (piano) - April 10th
Beethoven – Sonata no 1 for piano and cello in F
Brahms – Sonata no 1 for piano and cello in E minor
£353 was collected for Age UK
Lea Barn Divertimenti - March 20th - in memory of Hege Aldren
Anna leHair – piano, Ed Cook – clarinet, Pam Wise –horn, David Gaster – violin, Robert Behrman – viola, Deborah Behrman – cello
Crusell – Clarinet quartet in C minor
Dohnanyi – Sextet for piano, clarinet, horn and strings
£375 was raised for Amyloidosis Research
Katarina Davies (cello) and Philip Howard (piano) - February 28th
Cassado, Saint-Saens, Bach, Popper, Rachmaninov
£300 was raised for Barnardo's High Close School
Heath Quartet - December 19th
Tschaikovsky – Quartets nos 1 and 3
£375 was raised for the British Heart Foundation
Trio D'Angelo - November 29th
Music for soprano, clarinet and piano
£231 was raised for Great Ormond Street Hospital
Lea Barn Divertimenti - November 15th - concert in memory of Julia Morris (previously Nash and Riddell)
Reinecke – Trio for Piano, Oboe and Horn
Daryl Shippey (piano), Frances Jones (oboe), Pamela Wise (horn)
Weissenborn – Kleine Suite for 2 bassoons and piano
Alex Glyn, Justin Coombs (bassoons), Daryl Shippey (piano)
Brahms – Variations on a theme of Haydn
Above wind plus Vanessa Smart (flute), Jean Ashford (oboe),
Richard Longman, Liz Mundy (clarinets), Andrew Hills (horn)
£594 was raised for MacMillan Cancer Support
Robert Cheung - October 18th
Beethoven sonata op 10 no 3 – first two movts
Liszt – Liebestraum
Debussy – L'Isle Joyeuse
Satie – Gymonpedie no 1
Chopin – Ballade no 23
Schubert – Impromptu
£438 was raised for Alexander Devine Children's Hospice
Lawrence Power Masterclass - September 18th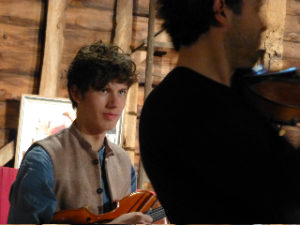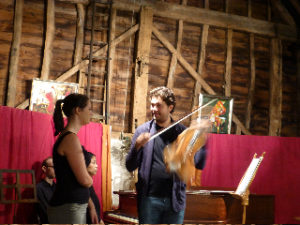 £188 was raised for the West Wycombe Chamber Music Festival
Lea Barn Divertimenti - July 19th
Daryl and Lauren Shippey – piano, Vanessa Smart – flute, Robert Behrman – violin, Deborah Behrman – cello
Haydn – trio for flute, cello and piano in G
Dvorak – Slavonic Dance for piano duet
Beethoven – piano trio op 1 no 3
£279 was raised for BLISS
Stephen Laidlaw (cello) and Tyler Hay (piano) - June 28th
Bridge – Sonata for cello and piano
Glazunov – Chant du menestrel and Serenade Espagnole
Cesar Franck – Sonata for cello and piano
£313 was raised for Prostate Cancer UK
Eralys Fernandez (harpsichord and piano) and Diego Carneiro (cello) with Jan (baroque oboe) and Deborah Behrman (continuo cello) - May 24th
Haydn – keyboard sonata in B minor
Bach – Chromatic Fantasie and Fugue
CPE Bach – Oboe sonata in G minor
Telemann – Oboe sonata in A minor
Villa Lobos – The Black Swan
Schumann – Adagio and Allegro
Saint-Saens – The Swan
£394 was raised for AmazonArt
The Stadler Trio - March 29th
Philip Shirtcliffe (clarinet), Ben Yudkin (cello), Sophie Dear (piano)
Beethoven – trio for clarinet, cello and piano
Brahms – trio for clarinet, cello and piano
£321 was raised for Special Effect
Lea Barn Divertimenti - 4-2-5 - March 15th
Sophie Dear – piano, Alison Packer – violin,  Fi Brodie – viola, Richard Longman – clarinet,  Robert Behrman – violin, Judy Hunter – violin
Piano Quartet in E flat
Duo in G
Clarinet Quintet
£531 was raised for the Stroke Association
OCMC members - February 22nd
Rupert Bawden – violin, Anna Le Hair – piano, Barbara Wyllie- clarinet, Edmund Booth – violin, Peter Wall – viola, Norman Starritt – cello, Deborah Behrman – Duke of Burgundy
Walton – Violin Sonata
Brahms – Clarinet Quintet
Walton – Duke of Burgundy's speech Henry V Act 5
Baleiro set by Rupert Bawden,
£340 was raised for ActionAid