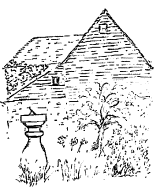 VEGETARIAN SOUPS AND MAIN COURSES
Butternut Squash Soup
2 medium butternut squashes
2 bramley apples
2 medium onions
2oz butter
1tsp curry powder
1.5oz flour
pinch ground nutmeg
2 chicken stock cubes
750ml boiling water
500ml milk
Fry chopped onions in butter till just going brown. Add curry paste and fry a little. Add chopped squash and apple and fry a little, then flour and nutmeg. Stir well for a few seconds over a low heat. Add water and chicken stock cubes and milk and bring to boil, stirring.
Simmer with lid on, stirring occasionally until squash is cooked. Blend until smooth and season with salt and pepper
Chick Pea Soup
3 tbs olive oil
8 cloves garlic
Sprig of rosemary, chopped
Tin chopped tomatoes
2 tins chickpeas
1 pt stock
Fry garlic cloves in olive oil over a medium heat till they are well browned, then remove. Add rosemary to oil and sizzle for around 30sec.
Add tomatoes (carefully as there's dramatic steam and sprayed hot oily tomato if you do it too fast!). Stir and cook over a slightly lower heat for around 30m stirring occasionally. Add drained chickpeas and cook a further 5m. Add stock and some salt and pepper and cook for a further 30m. Blend and adjust seasoning.
Chick peas with leeks
1 onion

1 clove of garlic
2 leeks
2 carrots
1 large cooking apple
Tin of chick peas
Tin of mushy peas
0.5pt cider
Tbsp peanut butter (optional)
Fry chopped onion, garlic, leeks, carrots and apples in olive or sunflower oil until softened. Add chick peas, mushy peas, peanut butter (if used) and cider and enough water to cover the veg, season with salt and pepper and simmer gently for around an hour. I also added some softened quince which had been left over from making quince jelly, but it's probably not essential!
Cold courgette soup
A novel and very tasty way to use all those courgettes in the summer
3 medium onions
About 1.5lb courgettes
Rind of 2 oranges
Orange juice
I tbs curry paste or powder
Cream/yogurt
Fry onions and courgettes together until softened. Stir in curry paste and fry a little more. Add water to cover and simmer about 10 min.
Blend and leave to cool. (It's also good hot!)
Stir in orange rind, season and add some orange juice – to taste.
Before serving stir in a swirl of yogurt or cream
Courgette parcels
Another delicious solution to the courgette glut 
Courgettes
Pack of feta cheese
Grated parmesan
Egg
Splash of cream
Chopped mint
Filo pastry
Olive oil
Grate courgettes and sprinkle with salt. Leave about half an hour then squeeze out as much liquid as you can and pat dry.
Mix courgettes with feta cheese, some grated parmesan, an egg and a splash of cream and some chopped mint.
Oil a sheet of filo pastry, pile some mixture into middle and draw up sides to make a parcel. Repeat with more sheets.
Bake till golden brown.
Red cabbage and chestnuts
This is the easiest recipe I know for when you need to cook for lots of people.  Absolutely nothing is crucial except that it is cooked for a long time in a very low oven.  Delicious with baked potatoes and Greek yogurt or creme fraiche and a green salad.
2 large onions
A red cabbage
A bag of frozen chestnuts
½ to ¾ bottle of cheap red wine
2 oz butter
Note: quantities not at all crucial!
Gently fry chopped onions in butter till just going brown. Add chopped red cabbage and chestnuts. Almost cover with red wine. Gently bring to boil. Season with salt and pepper. Cover and cook in a very low oven (MK 1 – 2 or about 140°) for about 3 hours (or longer if you can't get back in time).
Spicy chick peas
10-11 oz chopped onions
½ chopped green chilli
1 tbsp finely chopped ginger
4 tbsp lemon juice
2 tins chickpeas
6 tbsp veg oil
½lb chopped tomatoes
1 tbsp ground coriander
1 tbsp ground cumin
¼ tsp cayenne pepper
salt
pepper
Put 2 tbsp of the onions, the chilli, ginger, ½tsp salt and lemon juice aside in a cup.
Fry remaining onions in oil till browning. Add tomatoes and continue to fry till gone mushy.
Add spices and stir and cook for about 30 seconds.
Add chick peas, about ¾ pt juice from tin and water and salt. Cover and cook very gently for about 20 minutes.
Before serving stir in the contents of the cup.
Spinachy chick peas
2 tins chick peas
1 oz butter
1 medium onion
1 lb tomatoes
8 oz spinach
1 tsp ground cumin
1 tsp oregano
1 tsp paprika
4 oz grated cheddar
salt
natural yoghurt
Blend 4 oz of the chick peas with ¼ pt fluid from can. Fry chopped onions till browning. Add cumin and drained chick peas and cook for 2 min. Stir in chopped spinach, tomatoes, blended chick peas, herbs and seasoning. Cook for a further 15 mins approx. Stir in cheese and some yoghurt and serve hot.
Biscotti
12oz plain flour
11oz caster sugar
4oz ground almonds
8oz whole blanched almonds
1.5 tsp baking powder
0.5 tsp ground cinnamon
0.5 tsp salt
3 large eggs
1 tsp vanilla extract
Preheat oven to Mk 4 (180C)
Combine all dry ingredients in a bowl then stir in whisked eggs and vanilla extract to make a stiff dough.
Put dough on lightly floured surface and divide in half. Roll each half into a cylinder. Place on a baking sheet (parchment on a baking tin works well) with a gap between of at least the diameter of the cylinder and also not too near the edges. Flatten each cylinder a little.
Bake for 25-30 min in centre of oven till well risen and firm to the touch.
Leave on rack to cool down.
When cool cut the logs into slices about 0.7cm thick. Arrange on baking tins and bake again for 15-20 min till they look browned.
Chocolate Caramel Shortbread
Base:
4 oz butter or marg
2 oz caster sugar
3 oz plain flour
3 oz rolled oats
Caramel:
0.5 tin condensed milk
4 oz butter
2 oz brown sugar
Chocolate topping:
7 oz plain chocolate
2 oz butter
For caramel, put all ingredients in pan and bring to boil over a low heat. Boil for 5 min stirring continuously. Pour over base.
For chocolate topping, melt chocolate and butter over a low heat and pour on top of caramel.
Leave to set in a cool place or fridge (but better to cut into squares before too cold or chocolate cracks)
Coffee or lemon crunch
Sponge:
6oz margarine
6oz soft brown sugar
2 large eggs
6oz self-raising flour
Topping:
4oz caster sugar
1 level tbsp coffee powder dissolved in 1 tbsp water
or
1 – 2 tbsp lemon juice
Melt margarine in a pan. Remove from the heat and stir in sugar. Beat in eggs and stir in flour. Spread into a greased 12''x 9" swiss roll tin. Bake at Mk 4, 180º for 25-30 min.
Meanwhile make a paste of the topping ingredients. Spread on the cake as soon as it comes out of the oven.
Date flapjack
Baked in the microwave – bizarre
250g pack of dates, chopped
4 tbs water
3 oz margarine
2 oz demerara sugar
1 tbs golden syrup
5 oz plain flour
5 oz porridge oats
Put dates and water in a bowl, cover and cook at HIGH for 3 min. Mash up with a fork.
Put marg, syrup and sugar in a bowl and cook at HIGH for 2 min. Add flour and oats and mix well.
Spread half the oat mixture into a 8in flan dish and flatten down, spread date mixture over, then cover with remaining oat mixture and press down firmly.
Cook at HIGH for 5 min.
Gateshaw Oatcakes
My mother's oatcake recipe – that she made when they lived at Gateshaw
8oz medium oatmeal
2oz wholemeal flour
½ tsp bicarb
½ tsp salt
A little sugar (maybe a tsp?)
1oz butter ( a 'good' ounce!)
water
Mix all dry ingredients. Rub in butter. Mix in enough water so that it just holds together (as for pastry)
Roll out thinly and cut into shapes
Bake in a medium oven till slightly browned.
Gooey coconut flapjack
4oz butter
4oz oats
2oz chopped glace cherries
4oz sultanas
2oz chocolate chips
3oz desiccated coconut
1 can condensed milk
Melt butter in saucepan and pour into a swiss roll tin (13x9ins).
Sprinkle oats evenly, then cherries, sultanas, chocolate chips and finally coconut. Pour condensed milk evenly over top.
Bake in a moderate oven 180C (350F) Gas 4 for about 25mins till golden brown. Cool in tin for about 15min then cut into squares.
Leave in tin till cold.
Italian almond biscuits
1.5 oz plain flour
7 oz ground almonds
2.5 oz icing sugar
0.75 oz caster sugar
0.5 tsp baking powder
3 large egg whites
2 oz icing sugar for rolling the biscuits

Set oven to 150 C
Mix all the dry ingredients together and fold in stiffly beaten egg white.
Form into quenelles (sort of fat tapered tubes) using 2 dessert spoons, then roll gently in the icing sugar and place on baking sheet.
Bake until lightly golden then cool on rack.
Lea Barn shortbread biscuits
3½ oz butter
3½ oz soft margarine
4oz plain white flour
4oz wholemeal flour
2tsp baking powder
3oz caster sugar
Sieve together flour and baking powder.
Rub in butter and margarine.
Rub in sugar until mixture resembles breadcrumbs.
Form together into a dough and knead lightly till smooth.
Roll out to about 3mm thick and cut into fingers.
Bake on greased, floured baking trays for 15-20 m at 160°C Gas Mk 3.
Leave to cool a little before removing from trays to finish cooling on a rack.
Nutty flapjack
4oz butter
4tbs honey
6oz oats
2oz dessicated coconut
2oz slivered almonds
4oz toasted macadamia or hazelnuts
1oz pumpkin seeds
2oz sultanas
2oz dried cranberries
Melt butter and honey over a low heat.
Stir in the other ingredients.
Press into a greased swiss roll tin.
Bake in a moderate over (about 160) till golden brown.
Cut into squares when almost cold.
Apple Strudel (Makes 2 apple strudels - enough for 10-12 people)
8 sheets of filo pastry
4oz butter
6 large-ish apples, peeled and cubed
2 good slices of wholemeal bread, crumbed
3/4 cup raisins
1/2 cup chppoed almonds
1/2 cup coarsely chopped dates
1 cup brown sugar
1 tsp cinnamon
Lay 4 sheets of pastry on worksurface so that they overlap to make double thickness except at edges where there is approx 2″ single thickness. Make another similar with other 4 sheets.
The final rectangle should be about 15″x12″.
Cover with breadcrumbs leaving about 1″ clear all round.
Melt butter and pour over the breadcrumbs.
Cover with apples, raisins, nuts, dates and sugar and cinnamon.
Roll up gently in direction which will prevent the pastry from unrolling and place on baking tray.
Bake at 170C for 30-40 min
Carrot and banana cake
1 cup of sugar
1 cup of oil
3 eggs
1.5 cup flour
10ml baking powder
10ml cinnamon
5 ml bicarbonate of soda
1 cup of banana
1 cup grated carrot
Nuts optional
Combine sugar, oil and eggs and beat well. Add remaining ingredients and mix well.
Bake at 180C for about an hour.
Ice with a mixture of icing sugar and cottage or cream cheese with a little lemon or orange juice if you like.
Clementine and fruit polenta cake (gluten free)
Cake:
4 small clementines
200g unsalted butter, softened, plus extra for greasing
420g luxury vine fruit mix
100g cranberries
2 tbsp brandy
200g dark brown sugar
3 eggs
½ tsp ground cinnamon
1 tsp mixed spice
140g polenta
1 tsp baking powder
100g ground almond
Topping:
140g caster sugar
Put the clementines in a small pan, cover with water and bring to the boil. Reduce the heat to a simmer and cook for 1 hr or until tender. Drain and cool.
Heat oven to 180C/fan 160C/gas 4. Butter a 20cm springform cake tin and line the base with a disc of buttered baking parchment. Cut the cooked clementines in half and remove any pips. Pulse in a food processor until finely chopped but not puréed.
Combine the dried fruit, cranberries and brandy in a bowl. Add the clementine pulp and mix well. Cream the butter and sugar together until pale. Add the beaten eggs, one at a time, mixing well between each addition. In another bowl, combine the spices, ground almonds, polenta and baking powder. Fold into the creamed mixture along with the dried fruit and clementine pulp.
Spoon into the prepared tin and smooth the top. Bake on the middle shelf of the oven for 30 mins. Reduce the oven temperature to 160C/fan 140C/gas 3 and continue to cook for a further 40 mins. You may need to loosely cover the top of the cake with a sheet of baking parchment for the final 20 mins to prevent it browning too quickly. Cool in the tin for 30 mins before turning out onto a cooling rack.
To make the topping, slice the clementines to a 5mm thickness. Tip the sugar into a saucepan with 140ml water and cook over a low heat, stirring often, until the sugar has dissolved. Put the clementine slices in the pan and stir through. To keep the clementines submerged in the syrup, cut out a circle of greaseproof paper to fit into the pan and place over the fruit. Cook over a low heat for 1 hr until glossy and translucent. Remove and spread out over greaseproof paper to cool.
To serve, dust the whole cake with icing sugar, then arrange the clementine slices, overlapping, over the top of the cake.
Carrot cake
Described as the 'lightest carrot cake I've ever had'
Cake:
10 fl oz vegetable oil
8 oz caster sugar
3 eggs
6 oz plain flour
3/4 tsp baking powder
3/4 tsp bicarb
3/4 tsp cinnamon
8 oz grated carrot
Icing:
4 oz cream cheese
4 oz softened butter
4 oz icing sugar
juice of half a lemon or lime
Line a tin, around 9 x 12″, with baking paper.
Beat together oil and sugar, then beat in eggs one at a time. The mixture should be quite thick. Sieve and add the dry ingredients and fold in. Fold in the grated carrot.
Put into tin and bake at 180 C or gas 4 for approx 40 min
For the icing beat all the ingredients together.
Spread over the cake when it has cooled.
Chocolate cake
8 oz soft margarine
3 tbsp drinking chocolate
8 oz caster sugar
3 tbsp cocoa
4 eggs
4 tbsp milk or water or juice
8 oz self raising flour
2 level tsp baking powder
Grease and line a 12 x 10 x 2 inch tin. Set oven to gas 4, 180ºC.
Put all the ingredients in a bowl and mix by hand or with a mixer till smooth and creamy.
Bake for 35-40 minutes.
Icing filling: Mix cocoa, icing sugar, margarine and some milk or juice to make the right consistency (I put orange peel and juice in).
Chocolate bar icing for top: 6 oz milk or plain chocolate melted gently, stirring all the time, with 3oz butter or margarine. Pour over the cooled cake.
Date, toffee and apple cake
Cake:
6oz chopped dates
1 apple peeled and chopped
1tsp bicarbonate of soda
8oz sugar
3oz butter
1 egg
10oz plain flour
1 tsp baking powder
1/2 tsp salt
2oz chopped walnuts or pecan nuts (optional)
Topping:
4oz brown sugar
2oz butter
3tbs thin cream or milk
Pour 8 fl oz boiling water over dates and apples. Add bicarbonate of soda and leave while mixing other cake ingredients as below.
Beat together butter, sugar and egg then stir in flour.
Add date mixture.
Spoon into lined 9″ by 12″ tin and bake in a moderate oven for approx 35 min
Mix together topping ingredients in a pan and boil for 3min. Spread onto cooled cake and sprinkle with chopped nuts.
Extreme chocolate cake (gluten-free)
Cake:
250g dark chocolate
210g butter
250g caster sugar
5 medium to large eggs
75g ground almonds
Icing:
200g dark chocolate
50ml milk
75g butter
Melt broken chocolate, butter and sugar in a bowl over hot water. Leave to cool a little then beat in the eggs one by one. Fold in almonds.
Pour into a greased and lined 9" diam cake mould. Bake at 160 deg or gas 3 for 30-45m until knife comes out clean.
Leave to cool in tin/mould, then turn out onto plate.
Melt icing ingredients together in a bowl over hot water. Leave to cool for 10m then spread/pour over cake.
Gooseberry and almond cake
5oz butter
8 oz caster sugar
4 eggs
3oz self raising flour
3oz ground almonds
¾ tsp baking powder
14 oz gooseberries
1.5 oz flaked almonds
Icing sugar for dusting
Preheat oven to 190C gas mark 5
Beat butter and 5oz sugar till light and fluffy
Beat in eggs then fold in flour and almonds
Put in greased 8-9 in tin
Mix gooseberries with remaining 3oz sugar and spread over top of cake
Bake 20-25m. Sprinkle with almonds and return for another 10 min
Turn out when cold and dust with icing sugar
Lea Barn luxury fruit and nut cake (gluten free)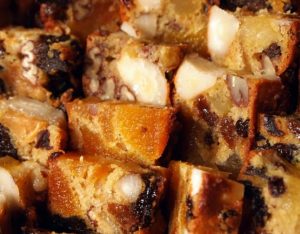 7oz dried apricots, halved
7oz prunes
5oz glace cherries
3oz raisins
4oz brazil nuts
4oz pecan nuts
3½ oz ground almonds
½ tsp baking powder
3 eggs
1-2 tablespoons honey
I'm actually not too fussy about which dried fruit I use and have included (according to what happens to be in the cupboard) mango, pineapple, papaya, ginger – provided it adds up to roughly 22oz.
Mix everything but the eggs and honey together. Beat eggs and honey up and stir it in to fruit and nuts. Put into two loaf tins lined with baking parchment and bake in a slow oven (about Mk3 or 160°) until it looks brownish (about 40min in mine, but it seems quicker than many ovens).
Marmalade cake
Cake:
6oz butter
6oz soft brown sugar
Grated rind of 1 orange
3 medium eggs
2 (good) tablespoons chunky marmalade
7oz self raising flour
1tsp mixed spice
4oz mixed fruit
2oz chopped prunes
2oz chopped apricots
Icing filling:
Icing sugar mixed with some butter and some marmalade
Cream together butter, sugar and orange rind.
Beat in eggs and marmalade.
Fold in flour and mixed spice and stir in fruit.
Bake in a greased, lined 7″ tin at 180C or Gas 4 for about 1hr till skewer comes out clean.
Cool in tin, turn out and slice in half and fill with icing.
Spread some marmalade on top of cake.
Mary's chocolate cake
A delicious rich chocolate cake given to us by our violinist friend, Mary, in Hythe.
6oz drinking chocolate powder (I use 4oz cocoa and 2oz icing sugar)
4oz caster sugar
6oz softened butter
4 eggs
2oz self raising flour
Beat all ingredients together till smooth and going pale.
Bake at Gas 4, 350 deg C for around 30m
Make a butter icing with butter, icing sugar and cocoa to fill. I sometimes add some orange rind and a little juice or cointreau.
Pear and almond cake
• 6 oz soft butter
• 5 oz caster sugar
• 2 medium/large eggs
• 3 oz wholemeal self raising flour
• 3 oz ground almonds(or mix gd and chopped)
• A pinch of cinnamon
For the caramelised pears:
• 3 pears (just ripe if poss)
• 1 oz unsalted butter
• 1 tbsp granulated sugar
1. Preheat oven to 170°C/gas 3. Grease a 20cm-diameter springform cake tin and line the base with baking parchment
2. Peel, core and quarter the pears.
3. Melt the 1 oz butter in a frying pan over a medium high heat. When it's bubbling, add the sugar and stir gently until it has dissolved into the butter. Add the pears and cook gently, turning once or twice, until they have softened and are starting to colour – 5-10 minutes.
4. In a mixing bowl, beat the butter with the caster sugar until pale and fluffy. Beat in eggs one at a time
5. Combine the remaining flour, the almonds and the cinnamon, and fold into the mixture. Scrape into the prepared tin. Arrange the pears on top and pour on any caramelly juices left in the pan.
6. Bake for about 30-40 minutes or until a skewer inserted into the centre of the cake comes out clean.
7. Stand the cake in its tin on a wire rack to cool for a few minutes, then release the tin.
Philippa's chocolate brownies
100g/3 ½ oz unsalted butter
175g/2 ¾ oz caster sugar
75g/2 ¾ oz dark muscovado sugar
125g/4 ½ oz dark chocolate
1 tbsp golden syrup
2 eggs
1 tsp chocolate or vanilla flavouring (we rarely have it!)
100g/3 ½ oz plain flour
2 tbsp cocoa powder
½ tsp baking powder
Lightly grease a 20cm/8 inch shallow square cake tin and line the base.
Place the butter, sugars, dark chocolate and golden syrup in a heavy-based saucepan and heat gently, stirring until smooth and blended. Remove from heat and leave to cool.
Beat eggs and flavouring. Whisk into cooled choc mixture.
Sieve together flour, cocoa and baking powder and fold carefully into egg and choc mixture, using a metal spoon or spatula.
Spoon mixture into prepared tin and bake in preheated oven-gas mark 4. for 25 mins until top is crisp and edge is beginning to shrink away from side. Inside should be stodgy and soft to touch.
Leave cake to cool and eat it all up.
Rhubarb slice
14oz rhubarb trimmed and cut into ¼ in slices
5.5oz caster sugar
9oz unsalted butter, chopped
10.5oz caster sugar
½ teaspoon natural vanilla extract
4 eggs
4.5oz plain flour
1 teaspoon baking powder
1 tablespoon sugar
Icing sugar for dusting
1. Combine the rhubarb and sugar in a bowl and set aside stirring occasionally, for 1hour, or until rhubarb has released its juices and the sugar has dissolved. Strain well discarding the liquid.
2. Preheat the oven to 180C. Line a 9 x 12 inch-ish tin with baking parchment leaving some excess at the sides to lift the cake out.
3. Cream the butter, sugar and vanilla until pale and fluffy. Add the eggs one at a time, beating well after each addition. Sift the flour and baking powder over the mixture, then stir to combine.
4. Spread the mixture evenly over the base of the prepared tin, then put the rhubarb over the top in a single layer. Sprinkle with sugar.
5. Bake for 40 – 45 minutes, or until golden brown. Leave to cool slightly in the tin, then carefully lift out and cut into squares. Dust with icing sugar and serve warm as a dessert with cream, or at room temperature as a snack.
Tipsy apple cake
5 large apples, peeled, cored and chopped
6 tbs brandy
2 cups brown sugar
½ cup oil
2 eggs
2 cups plain flour
2 tsp baking powder
1 tsp cinnamon
½ tsp nutmeg
1 tsp salt
1 cup raisins or other dried fruit (cranberries are good)
1 cup chopped pecan nuts
Combine apples and brandy, mixing well, and set aside.
Beat together sugar, oil and eggs.
Mix together flour, salt, baking powder and spices.
Add to oil mixture and beat till thoroughly mixed.
Stir in apples, raisins and nuts and mix well.
Bake in a greased 9 X 13 inch pan at Mk4 or 180°for one hour.
Toronto tartlets - an alternative to mince pies
6 oz shortcrust pastry
Filling:
4 oz soft brown sugar
2 tbsp golden syrup
4 oz soft butter
1 beaten egg
pinch salt
1 tsp vinegar
3 oz dried fruit – raisins, sultanas – whatever mix you want
1.5 oz chopped nuts – walnuts, pecans, brazils all work well
Line pie tins with pastry and prick with a fork. Put in a cool place while you make filling.
Beat together sugar, syrup and butter, then beat in the egg, salt and vinegar. Stir in the fruit and nuts.
Fill the pie cases – no more than 2/3 full or it will all overflow in the oven.
Bake for 10 min at 220C, Mk 7 then for a further 5-10 min at 170C, Mk 3.
PUDDINGS AND MISCELLANEOUS
Fiddler's pudding
So-called because the recipe is based on one in a book with a preface by Yehudi Menuhin
2 lb cooking apples, peeled, cored and sliced
About 2 oz breadcrumbs
3 oz muscovado sugar
2 egg
6 oz ground almonds
6 oz butter or margarine
Cook the apples in a little water till soft then stir in the breadcrumbs. Put in a greased pie dish.
Cream together butter and sugar, then beat in eggs. Stir in ground almonds.
Spread mixture over top of apples.
Bake in a moderate oven for 30-40 minutes – top will be quite dark brown and crispy when it's ready.
Sticky toffee pudding
Sponge:
4.5 oz butter
7.5 oz caster sugar
3 eggs
9oz self-raising flour
9oz raisins
9fl oz boiling water
3tsp instant coffee granules
1tsp bicarbonate of soda
Sauce:
9oz soft brown sugar
6oz butter
9tbs thick single cream
Sponge:
Put raisins, coffee and bicarb in a bowl, pour boiling water over and leave to soak while mixing other ingredients.
Beat butter and sugar together, then add eggs and flour.
Fold in raisin mixture and pour into a buttered oven-proof dish.
Bake at 180C (Mk 4) until centre firm to touch (about 30 – 40 min).
Sauce:
Melt together then pour over pricked sponge.
This can be eaten immediately, but is probably nicer left to soak in and then reheated gently (150) before eating.
Tiramisu
1 pack amaretti biscuits
1/2 cup strong black coffee
A slosh of amaretto liqueur
1 pack mascarpone cheese
1/2 pint double cream, whipped
Icing sugar to taste
Cocoa powder
Crush biscuits in bottom of dish and pour over coffee and some amaretto.
Mix mascarpone cheese, whipped cream, some more amaretto, and icing sugar to taste in a separate bowl and spread over biscuit base.
Sprinkle cocoa powder over top and leave to chill for at least a couple of hours, and preferably overnight.
Lemon curd (very easy in microwave!)
4 large lemons
4 large eggs
8 oz caster sugar
4 oz unsalted butter
Grate lemon rind into a bowl suitable for microwave.
Beat together eggs and lemon juice and strain into the bowl.
Add sugar and diced butter.
Set microwave for 6 minutes. After each minute stir the mixture well. When it is softly set it's done. (I found this was after 6min with an 850W microwave but it needs about 6.5min with my 700W one).
Pour into clean jam jars (makes approx 2 x 1lb size)