Bat Talk and Walk - Wednesday 23 August at 7.30
Following the past years wonderful events where we met a rescued bat and also created an orchestra with our bat detectors along the banks of the Thames, Simon Holmes from Berks & South Bucks Bat Group returned with another rescue bat and his detectors.  In better weather than last year we walked down to the river and detected pipistrelles, soprano pipistrelles, noctule and dawbenton bats.
Making bug boxes - Sunday April 9th at 11.30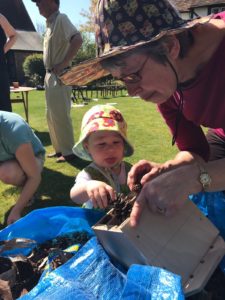 Around 12-15 people made bug and butterfly boxes with Mike Tucker's supervision and instruction.  https://www.meetup.com/Cookham-Wildlife-Supporters/events/past/#upcoming
Our local butterflies - Monday March 20th
David Fuller gave a very informative talk about our local butterflies and when and where we are likely to see them, as well as how we can encourage them to prosper.